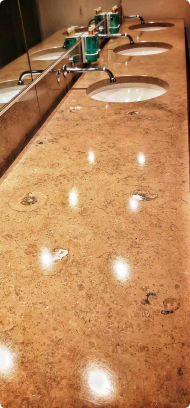 Marble, limestone, travertine and terrazzo are medium hardness materials as measured on the 'Moh's Scale' of hardness.
They can be scratched relatively easily by harder materials such as metal or grit on the soles of shoes
They are also quite porous and will easily absorb liquid. This may result in stains and etches on the surface.
Improper maintenance procedures and the use of unsuitable cleaning agents also damage the surface
Over time, your shiny floor, counter top, table or fireplace will look dull and in need of a makeover..
At House of Stone, we have over twenty years of experience in the restoration and re-polishing of marble, limestone, travertine, terrazzo and other similar materials
Regardless of the degree of wear and tear we will restore your floor, counter, worktop or vanity unit to pristine condition.
Our many successfully completed projects over the years are a testament to our professionalism and skill.
We approach every job, large or small, with the same dedication and commitment and we take great pride in achieving the best possible result every time.
Cleaning & Re-Polishing marble worktops,
vanity units, tables & fireplaces
Clean, seal and re-polish

Damage and crack repair and filling in of holes

Diamond grinding to even out badly laid tiles

Treatment of issues caused by excess humidity

Care and maintenance products