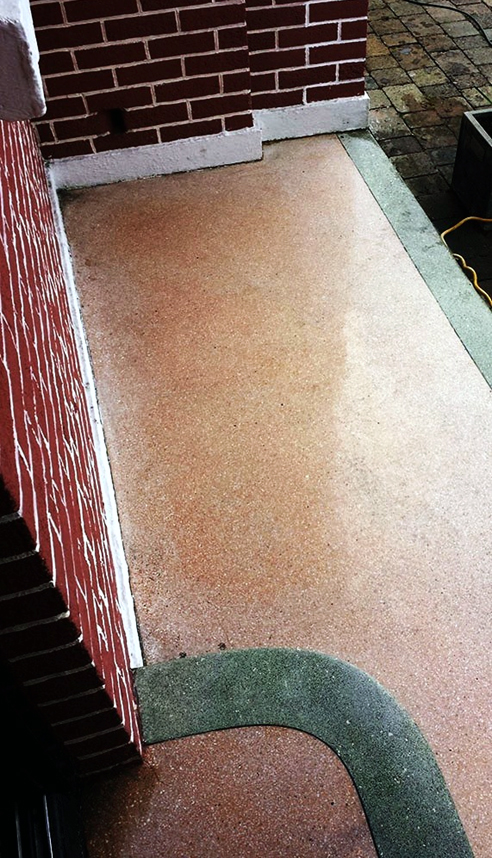 Terrazzo is a composite material, poured in place or precast, which is used for floor and wall treatments. It consists of chips of marble, quartz, granite, glass, or other suitable material, poured with a cement binder (for chemical binding), polymeric (for physical binding), or a combination of both. Metal strips often divide sections or changes in color or material in a pattern. Additional chips may be sprinkled atop the mix before it sets. After it is cured, it is ground and polished smooth or otherwise finished to produce a uniformly textured surface.
As a flooring material, terrazzo is relatively low maintenance and, for that reason, is a popular choice in public buildings such as schools, office blocks, and hospitals.
The care and maintenance of terrazzo are similar to that of natural stone.
THE FOLLOWING ARE SOME GENERAL TIPS TO KEEP YOUR TERRAZZO IN GOOD CONDITION AND FREE OF STAINS OR DAMAGE:
Wipe up spills of liquids as quickly as possible to minimize staining and etching of the surface.
Place cloth mats under metal ornaments and sharp or heavy objects that might scratch the surface.
Place castors under the legs of chairs
, particularly metal chairs, to prevent scratching.
Use only mild non-acidic cleaners.  As a general rule, avoid using supermarket cleaners as they are often too acidic and may react with material in the terrazzo. Purchase a NEUTRAL NATURAL STONE CLEANER from a hardware store or natural stone outlet
Use a tray for toiletries and cosmetics in the bathroom as these products will cause damage to the terrazzo.
Avoid using abrasive items to clean the surface, for example, scouring powders, steel wool, wire brush, sandpaper.  Do not drag metal objects across the floor. Better to lift and place back down. Be careful about dragging vacuum cleaners as the hard wheels on the machine can scratch the surface.
For further information on care and maintenance of terrazzo, Call 01 8820002