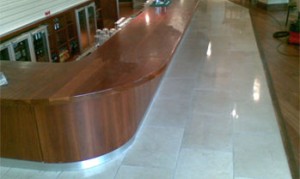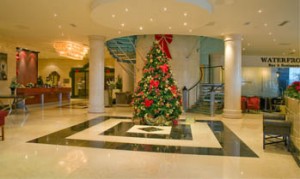 Marble is a medium hardness stone as measured on the 'Mohs Scale' of hardness. It can be
scratched relatively easily by grit on the soles of shoes or by sharp-edged objects being
dragged across the surface. It is also quite porous and will easily absorb spilled liquids that
can leave a stain. Also, as marble is a calcium-based stone, acidic substances such as wine or
vinegar may react and leave an etch mark. Polished marble in particular is sensitive to
mistreatment. Great care must be taken to maintain the shine. Improper maintenance procedures
and the use of unsuitable cleaning agents are the chief causes of polished marble losing its
brilliance. Other environmental factors can also have an impact over time and eventually your
beautiful marble floor, fireplace, worktop or table may need to be re-polished.
At House of Stone, we have many years of experience in the restoration and re-polishing of marble.
Whatever the condition of the marble or regardless of the age or type of marble, we guarantee to
restore it to pristine condition. Our many successfully completed projects over the years are a
testament to our professionalism and skill. We approach every job, large or small, with the
same dedication and commitment and we take great pride in achieving the best possible result
every time.
WE PROVIDE THE FOLLOWING SERVICES WITH REGARD TO POLISHED MARBLE
MARBLE FLOOR POLISHING & RESTORATION
Clean, seal and re-polish
Scratch and etch removal
Stain removal
Damage and crack repair and filling in of holes
Diamond grinding to even out badly laid tiles
Treatment of issues caused by excess humidity
Anti-slip treatment
Anti-dirt treatment
Tile grout cleaning
Maintenance programs
Cleaning and re-polishing marble worktops, vanity units, tables, and fireplaces
Supply of care and maintenance products (see PRODUCTS section)
Procurement and supply
CLEANING & SEALING ALL NATURAL STONE:
Non-Polished Marble, Limestone, Terracotta, Slate, Travertine, Porcelain, Concrete, Granite,
Terrazzo, Ceramic, Quarry Tile, Sandstone, Manufactured Stone and Agglomerates
OUTDOOR STONE CLEANING SERVICES
FOR EXAMPLES OF COMPLETED PROJECTS SEE "GALLERY" SECTION OF THIS WEBSITE.