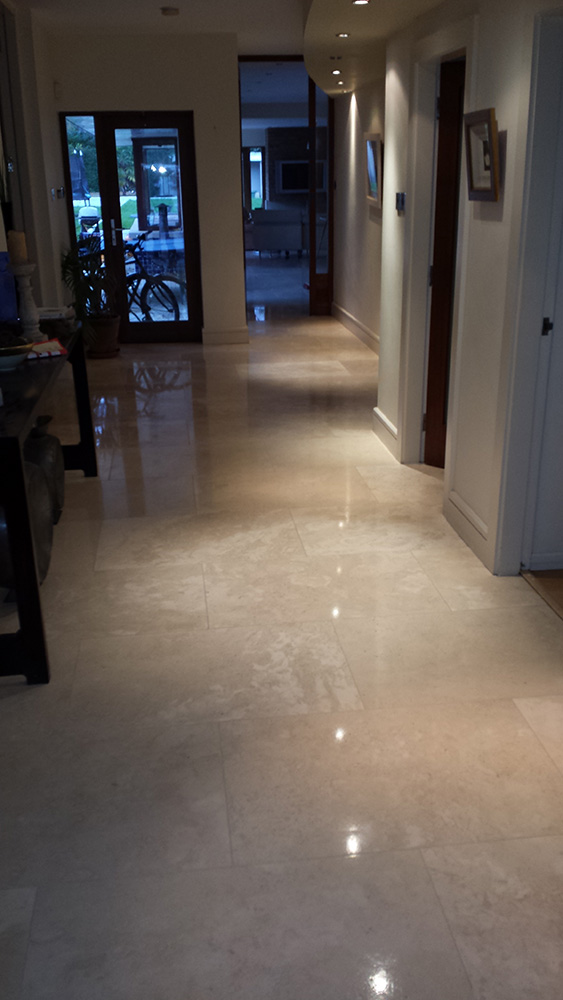 Travertine is a form of limestone deposited by mineral springs. It is formed by a process of rapid precipitation of calcium carbonate, often at the mouth of a hot spring or in a limestone cave. It comes in white, tan, cream-colored, and even rusty varieties. Travertine has been used as a building material since ancient times. The Romans mined deposits of travertine for building temples, aqueducts, monuments, bath complexes, and amphitheaters such as the Colosseum. Travertine is one of several natural stones that are used for paving patios and garden paths. It is also commonly used for façades, wall cladding, and flooring. The stone is characterised by pitted holes and troughs in its surface. Although these troughs occur naturally, they suggest signs of considerable wear and tear over time. Some installers use grout to fill the holes, whereas others leave them open. It can also be polished to a smooth, shiny finish. The relative softness of the stone, combined with its holes and troughs, make travertine flooring difficult to finish and maintain. Aggressive grinding sometimes called honing can reveal previously hidden air pockets that significantly change the look of the floor. Also, cleaning with abrasive or acidic chemicals that react with the calcium will over time eat away the surface and reveal the holes. On account of the air pockets the surface of a travertine floor will have hidden weak points. A sharp impact directly on a weak point will break through the surface and expose the air pocket. High heeled shoes and narrow legged chairs and tables in particular are likely to do damage. Also grit on the soles of shoes will scratch or make holes on the surface. In spite of the maintenance issues associated with travertine it continues to be a popular choice of flooring in many countries. It has a subtle beauty and character that makes it a favourite of interior designers, architects and home owners everywhere. Maintaining a travertine floor can be made much easier if the following guidelines are followed: Use only neutral ph natural stone detergent for routine cleaning We recommend
LITHOFIN WASH & CLEAN.
See the
STONE CARE
section of this website Vacuum regular to remove dust and grit from surface Place a mat at main entrance to catch grit on the soles of shoes. Better still remove outdoor footwear on entering the house and put on slippers or soft shoes. Wipe up spills immediately, particularly acidic liquids such as fruit juice or wine. Place castors under chair and table legs.
| | |
| --- | --- |
| BEFORE | AFTER |
| | |
Travertine floors, in common with other types of natural stone flooring, periodically need to be professional cleaned and sealed. How often this is done depends to a greater extent on the level of foot traffic and the actual location of the floor. When this work needs to be done it is better to call in a professional stone cleaning company. House of Stone offers expert cleaning, sealing and maintenance of travertine, limestone, marble and other types of stone flooring.
To arrange an inspection of your floor and to get a free estimate call us on 01- 8820002